Pregled bibliografske jedinice broj:
804692
AZ – Croatian Glagolitic Murals
---
AZ – Croatian Glagolitic Murals, 2015. (audio/video zapis).
---
CROSBI ID: 804692 Za ispravke kontaktirajte CROSBI podršku putem web obrasca
Naslov
AZ – Croatian Glagolitic Murals
Autori
Horvat, Jasna ; Topić, Domagoj ; Mijoč, Josipa ; Katavić-Čaušić, Sanda
Izvornik
LoCloud Competition
Vrsta, podvrsta
Ostale vrste radova, audio/video zapis
Ključne riječi
Glagolitic script; Jasna Horvat; Faculty of Economics Osijek; Croatian identity; interior design;
Sažetak
The Glagolitic script, as well as Glagolitic tradition, is a Croatian cultural phenomenon unique for its linguistic, graphic, ethnological, anthropological and semiotic characteristics. In 2014, following the decision of the Ministry of Culture, the Glagolitic script was inscribed into the list of intangible cultural heritage of the Republic of Croatia. Creation of murals brings Glagolitic script closer to digital age. Jasna Horvat is the creator of preliminary design and the author of AZ, a novel which directly influences further research into cultural heritage. The Faculty walls covered by Glagolitic script became a canvas for inscribing messages in this old Croatian script. Therewith, the Faculty interior became the biggest institutional space depicting Glagolitic script next to the Zagreb Cathedral. This focuses the audience's attention on philosophy and symblics of Croatian traditional script. It is a demonstration that Glagolitic script can be used for communication (in space) and that it can be implemented in non-linguistic professions successfully. The Faculty murals are an example indicating that lost parts of Croatian identity can create new cultural and creative products.
Znanstvena područja
Arhitektura i urbanizam, Ekonomija, Filozofija
POVEZANOST RADA
---
Ustanove:
Ekonomski fakultet, Osijek,
Sveučilište Josipa Jurja Strossmayera u Osijeku - Odjel za kulturologiju
Profili: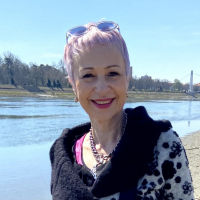 Jasna Horvat (autor)
Josipa Mijoc (autor)
Citiraj ovu publikaciju
AZ – Croatian Glagolitic Murals, 2015. (audio/video zapis).
Horvat, J., Topić, D., Mijoč, J. & Katavić-Čaušić, S. (2015) AZ – Croatian Glagolitic Murals. LoCloud Competition. Audio/video zapis.
@unknown{unknown, year = {2015}, keywords = {Glagolitic script, Jasna Horvat, Faculty of Economics Osijek, Croatian identity, interior design, }, title = {AZ – Croatian Glagolitic Murals}, keyword = {Glagolitic script, Jasna Horvat, Faculty of Economics Osijek, Croatian identity, interior design, } }
@unknown{unknown, year = {2015}, keywords = {Glagolitic script, Jasna Horvat, Faculty of Economics Osijek, Croatian identity, interior design, }, title = {AZ – Croatian Glagolitic Murals}, keyword = {Glagolitic script, Jasna Horvat, Faculty of Economics Osijek, Croatian identity, interior design, } }
---