Pregled bibliografske jedinice broj:
1064500
Zalihost i neoznačeno u hiperrealizmu
---
Zalihost i neoznačeno u hiperrealizmu
// New Theories,
1
(2019), 64-81 (domaća recenzija, članak, znanstveni)
---
CROSBI ID: 1064500 Za ispravke kontaktirajte CROSBI podršku putem web obrasca
Naslov
Zalihost i neoznačeno u hiperrealizmu
(Redundancy and unsignified in hyperrealism)
Izvornik
New Theories (2718-3297) 1 (2019); 64-81
Vrsta, podvrsta i kategorija rada
Radovi u časopisima, članak, znanstveni
Ključne riječi
realizam, hiperrealizam, znak, stvarnost, zalihost, Nelson Goodman, Max Bense
(realism, hyperrealism, sign, reality, redundancy, Nelson Goodman, Max Bense)
Sažetak
Realism is a stylistic qualification within the discipline of art history. The philosophy of art in the late 1960s has undermined such an understanding in two ways: first by relativising the notion of realism and then introducing the unstable status of the work of art into the place of previously stable aesthetic qualifications. In the same period, hyperrealism emerged as a postmodern version of realism. Using the visual language of his time, hyperrealism goes along with the innovations of philosophy of language and analytical philosophy, exposing semiosis as a production of signs devoid of meaning and ambivalently positioning itself in the aesthetics of hyper- consumerism and hyperproductiveness of postmodern culture. Unlike the realism that has been the answer to the universal, general state of the world, hyperrealism has imposed itself as a peeled off mirror image of the fragment, as a world without context. While in paintings of historical realism the represented scene referred to a context outside of the picture, in hyperrealistic practices the depicted scene was limited to the representation of a frozen event, isolated from context, and therefore from what has been signified by the world. From the theoretical position of philosophy of art, in this article we want to present the thesis of the "redundancy of unsignified content in hyperrealism": first by presenting the relativisation of realism in Nelson Goodman, and then separating the general from aesthetic meaning of sign information in Max Bense. For both authors, representation is a matter of choice, and every sign shown is information. However, while for Goodman realism is a matter of the recipient's habit of understanding the sign, information and semantic structure of the image, for Bense the key is to distinguish life (realism) from aesthetic sign communication. In the second part, we will apply Bense's distinction further to the differentiation between realism and hyperrealism.
Znanstvena područja
Znanost o umjetnosti
POVEZANOST RADA
---
Ustanove:
Filozofski fakultet, Rijeka
Profili: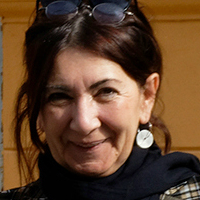 Nataša Lah (autor)
---
Citiraj ovu publikaciju:
// New Theories, 1 (2019), 64-81 (domaća recenzija, članak, znanstveni)
Zalihost i neoznačeno u hiperrealizmu
Lah, N. (2019) Zalihost i neoznačeno u hiperrealizmu. New Theories, 1, 64-81.
@article{article, author = {Lah, Nata\v{s}a}, year = {2019}, pages = {64-81}, keywords = {realizam, hiperrealizam, znak, stvarnost, zalihost, Nelson Goodman, Max Bense}, journal = {New Theories}, volume = {1}, issn = {2718-3297}, title = {Zalihost i neozna\v{c}eno u hiperrealizmu}, keyword = {realizam, hiperrealizam, znak, stvarnost, zalihost, Nelson Goodman, Max Bense} }
@article{article, author = {Lah, Nata\v{s}a}, year = {2019}, pages = {64-81}, keywords = {realism, hyperrealism, sign, reality, redundancy, Nelson Goodman, Max Bense}, journal = {New Theories}, volume = {1}, issn = {2718-3297}, title = {Redundancy and unsignified in hyperrealism}, keyword = {realism, hyperrealism, sign, reality, redundancy, Nelson Goodman, Max Bense} }
---